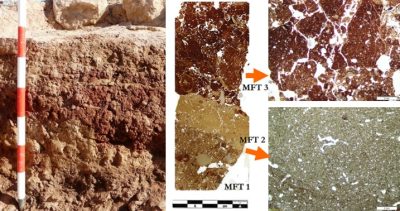 Principal Investigator(s):: Marta Mateu
Participating Researcher(s): M. Carme Belarte (ICREA)
Dates: 01/10/2022 - 30/09/2025
Financed by: AGAUR, Beatriu de Pinós (2021 BP 00103)

This project focuses on the study of domestic spaces from the protohistoric period (1st millennium BC) in the western Mediterranean (north-west of the Iberian Peninsula, southern France and the Balearic Islands) by applying micromorphology as part of the integrated methodology.
The main objective of the project is to delve deeper into the knowledge of domestic spaces from the protohistoric period by applying micromorphological studies. The data obtained will help us to interpret these spaces, especially in those cases in which materials and other macroscopic remains are scarce or absent. Our goal is to understand these spaces both socially and anthropologically through the study and analysis of their sediments and structures. The research of the use of space will also consider the gender perspective based on the activities identified, although, for the moment, the study of domestic areas shows mostly shared spaces and the identification of a segregated space between men and women is not evident in this period and area. As specific objectives, we will focus our attention on the use of these spaces, especially through the study of micro-rests that could be suitable use indicators. In this sense, different aspects related to the combustion structures that we will try to identify are fuels, combustion zones, burned materials, etc. as well as food process like seeds and other rests. In addition, another objective is to know the formative processes of these spaces, to identify the phases of occupation and to understand the constructions techniques (e.g., floors). Finally, it will be also important to better understand the destruction and post-depositional processes of these spaces. An implicit objective of this project is to promote geoarchaeological studies in pre- and protohistoric sites as well as the study of earthen architecture in Catalonia, specifically applying micromorphology.
Project funded by Agència de Gestió d'Ajuts Universitaris i de Recerca (2021 BP 00103).