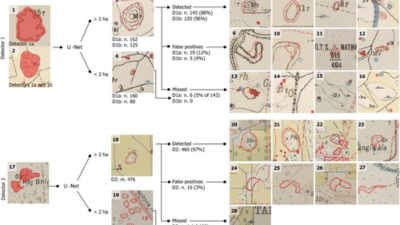 −first posted at GIAP website−
New GIAP research using Deep Learning to extract archaeological information from collections of maps produced during the European colonization of South Asia and Levant.
New research published this January in Archaeological Prospection presents the results of how archaeological information can be extracted from historical maps using deep learning. The paper demonstrates the potential of this technique for large-scale analysis and showcases its limitations and challenges.
The paper demonstrates the potential of this technique for large-scale analysis and showcases its limitations and challenges.
Colonial powers undertook massive programmes of systematic mapping of their possessions for military and economic control purposes. Although the historical value of these maps is well known by archaeologists and historians, exhaustive archival work is needed to use the data they contain, including the thousands of potential locations of archaeological sites that can be inferred from those maps.
This research provides a new tool to facilitate this work and render it accessible to the research community. It explores collections of maps produced by the Survey of India during the British dominion over modern India and Pakistan, and by the French authorities during the control of modern Syria.
Using deep learning it is now possible to extract information about 1) mound sites, unintentionally represented as topographical anomalies by the surveyors; 2) sites purposely reported and represented as conventional signs; and 3) toponyms that might refer to archaeological sites.
This technique provides the potential of exploring large series of hundreds of maps in a quick and reliable way. That can be an invaluable tool for the management of cultural heritage and the development of historical and archaeological research.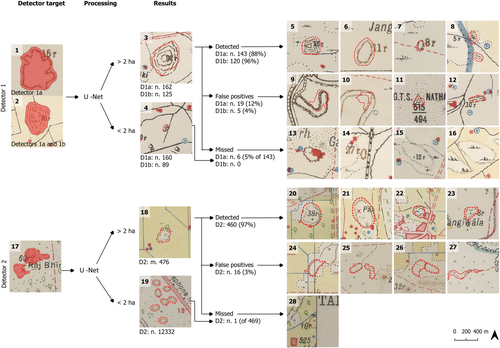 The paper published in Archaeological Prospection is the result of a collaboration between GIAP researchers Dr Arnau Garcia-Molsosa and Dr Hector A. Orengo, and colleagues from the University of Cambridge (Dr Cameron Petrie) and the University of Durham (Dr Dan Lawrence, Dr Kristen Hopper and Dr Graham Phillip).
The paper, entitled 'Potential of deep learning segmentation for the extraction of archaeological features from historical map series', is published Open Access and can be accessed here: https://doi.org/10.1002/arp.1807
Funding information: Agència de Gestió d'Ajuts Universitaris i de Recerca, Grant/Award Number: 2018 BP 00208; H2020 European Research Council, Grant/Award Number: GA648609; H2020 Marie Skłodowska‐Curie Actions, Grant/Award Number: GA746446; Leverhulme Trust, Grant/Award Number: F00128/AR; Ministerio de Ciencia e Innovación, Grant/Award Number: RYC‐2016‐19637.
🗣️ Nou article @GIAP_ICAC, a #ArchProsp !!
Usos del #DeepLearning per a extreure informació arqueològica de #mapes històrics del Sud d'Àsia i Llevant (Orient Pròxim).#OpenAccess
Amb @ArnauMaps @hector_orengo @eliasdan @kris_ho @ArcDurham @UCamArchaeology https://t.co/hWayWVTvOV

— ICAC, Institut Català d'Arqueologia Clàssica (@ICAC_cat) January 28, 2021
Oven-fresh paper exploring historical maps of South Asia an Levant. Here we test Deep learning to extract archaeological information from British and French colonial maps. With @hector_orengo , @eliasdan, Graham Philip, @kris_ho & C.A. Petrie. Available at https://t.co/aD6jAubCxH https://t.co/vnoxO9jHYZ

— Arnau Garcia Molsosa (@ArnauMaps) January 27, 2021
New open access paper at ArchProsp with @ArnauMaps, @eliasdan, Graham Philip, @kris_hop & C.A. Petrie: Deep learning detects archaeological features in historical maps.

Check it out:https://t.co/UTiy4ksQO6@GIAP_ICAC @ICAC_cat @ArcDurham @UCamArchaeology pic.twitter.com/UH3mGzVdGK

— Hector A. Orengo (@hector_orengo) January 27, 2021