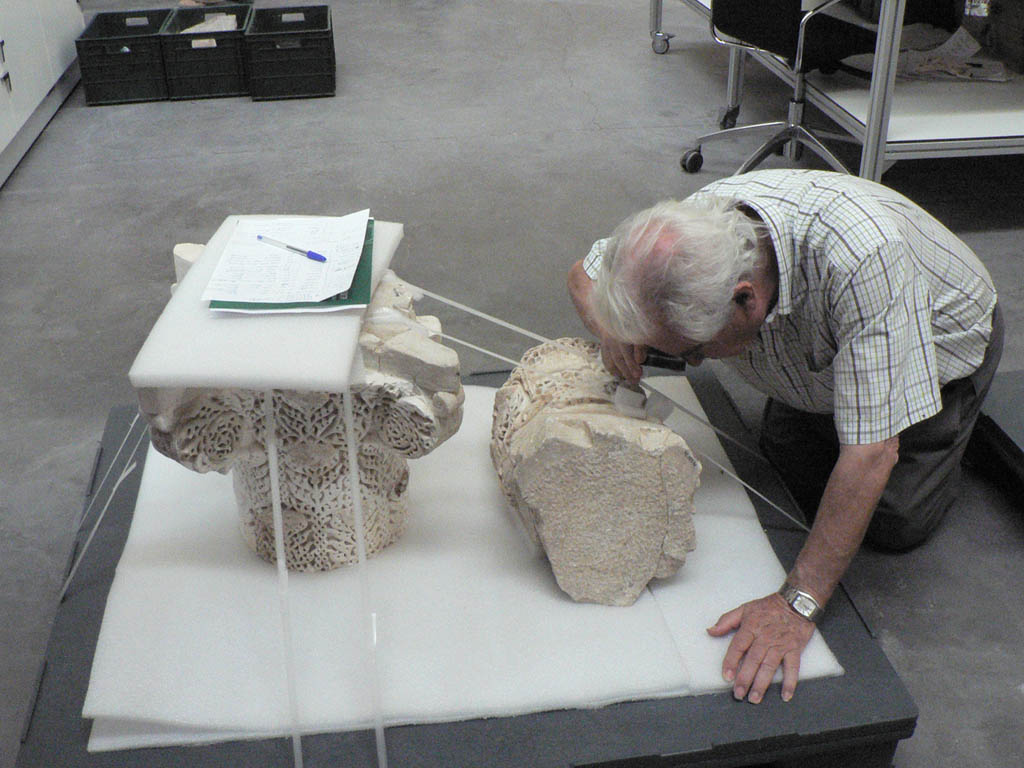 Observació i documentació de característiques macroscòpiques prèvies a l'anàlisi dels materials elaborats en marbre blanc de Madina Al-Zahra
Principal Investigator(s):: Isabel Rodà de Llanza (ICAC).
Participating Researcher(s): Aureli Àlvarez (ICAC-UAB), Anna Gutiérrez (ICAC-UAB), Ana Garrido (ICAC), Eva Koppel (UAB), Montserrat Claveria (UAB), Sílvia González (UAB), Francesc Busquets (UAB), Joan Manel Asensio (UAB), Pilar Lapuente (UniZar), Hernando Royo (UniZar), Simon J. Keay (University Southampton-British School at Rome), Graeme P. Earl (University of Southampton-British School at Rome), Leif Isaksen (University of Southampton), Pedro Otiña, Joan Hilari Muñoz
Dates: 01/11/2008 - 31/12/2011
Aquest projecte pretén seguir amb la recerca desenvolupada des de la Unitat d'Estudis Arqueomètrics, gràcies al conveni específic de col·laboració entre l'ICAC i la UAB per als estudis arqueomètrics, signat el desembre del 2006. Així, es continua aprofundint en el coneixement d'una de les matèries primeres més emprades en la producció escultòrica i epigràfica: els materials lapidis.
L'èmfasi recau en els materials lapidis de l'àrea catalana (pedra de Santa Tecla, broccatello o Jaspi de la Cinta, pedra de Montjuïc, etc.) i del sud de França (marbre blanc de Sain-Béat) emprats en època romana. Aquest estudi es du a terme de forma pluridisciplinària, integrant en l'equip no només arqueòlegs sinó també geòlegs, historiadors de l'art i epigrafistes, parant atenció a les zones d'explotació (pedreres), la caracterització arqueomètrica d'aquests materials i el seu ús (com a suport epigràfic o escultòric, com a material ornamental o de construcció, etc.).
Es para especial atenció a la seva distinció o diferenciació amb materials d'altres indrets, ja siguin hispànics o d'àmbit mediterrani. Això ha de permetre identificar les xarxes de distribució d'aquests i altres materials no només dins del territori estudiat (nord-est d'Hispània i sud de la Gàl·lia) sinó també a nivell peninsular (Hispània) i extrapeninsular (en especial amb Itàlia a través de la seva arribada a Òstia i Portus, els ports de Roma).
A més, el projecte, que té una durada de 3 anys des de la seva concessió, a finals del 2008, ha proporcionat una base de coneixement fonamental que no només permetrà millorar la col·lecció de referència d'aquest tipus de materials (i, per tant, una millor identificació en mostres de contextos arqueològics), sinó que també servirà per entendre millor els mecanismes i les vies d'arribada i sortida dels materials lapidis que s'estudien des de la Unitat.