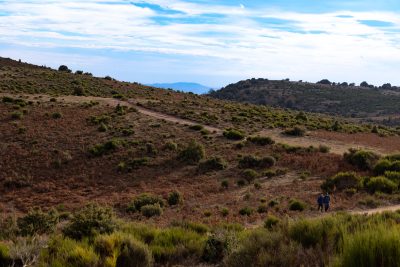 Principal Investigator(s):: Abel Gallego, Valentina Pescini
Participating Researcher(s): Alexandra Livarda, Theoni Bainou, Alexandra Kriti, Alfredo Mayoral, Natàlia Égüez (Universidad de La Laguna), Arnau Garcia, Francesc C. Conesa, Judit Ciurana, Paloma Aliende, Felix Retamero (UAB), Jaume Oliver (UAB) i Arnau Moret (Ajuntament d'Aiguafreda)
Dates: 01/01/2022 - 31/12/2025
Financed by: Departament de Cultura - OSIC, Projecte Quadriennal (CLT009/22/00036)

The main objective of this project is to understand the evolution of agricultural and livestock practices in the Montseny massif, specifically in its western sector, between the so-called Pla de la Calma to the municipal area of Aiguafreda (Vallès Oriental).
The project focuses on the historical period between the end of the Roman era (5th-6th centuries) and the consolidation of the feudal landscape (12th-13th centuries).
The research
The research will be carried out by an interdisciplinary team that includes specialists in environmental archaeology, geoarchaeology, topography or historical documentation, among others. Within the geographical framework, two well-differentiated areas will be studied, from areas of supra-forest pasture to terraces build for agricultural use. Previous research and projects associated with the study of the archaeological sites of the region and period under study, have shown how these two activities were two of the most important factors in the dynamics of the formation and transformation of the landscape. However, there is a need for in-depth documentation of the agricultural areas associated with the various settlements, an objective that will be achieved with the execution of this project.
Transfer knowledge
Within the project, communication and dissemination actions are also provided. These actions aim to create and maintain inter-institutional collaboration both with the Natural Park and Biosphere Reserve of Montseny to create shared infrastructures where sites of archaeological and historical interest can be promoted. In this way it will be possible to enhance the cultural landscape and its historical links with the ancient societies that have characterized this territory over time. Finally, PastMont intends to promote local territorial management aware of the historical dimension of the landscape.
Project funded by Departament de Cultura de la Generalitat de Catalunya (CLT009/22/00036).