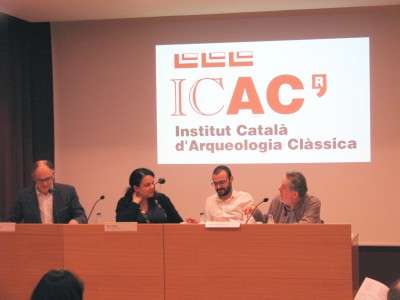 Més d'una dotzena d'experts han participat, els dies 5 i 6 de novembre, al col·loqui sobre la representació del passat a l'Antiga Grècia, "Time Present and Time Past: Representations of the Past in Ancient Greece".
Les ponències han explorat peces com la Ilíada, el Rhesus d'Eurípides, el Poema de Parmènides, les Odes de Píndar o el Carmen saeculare d'Horaci, entre altres obres literàries de la Grècia antiga. També s'han estudiat les obres dels historiadors, fonts arqueològiques i la iconografia de la ceràmica grega per comprendre com s'utilitzava el llenguatge, la imatge i l'evidència material per construir un relat del passat capaç de configurar el present.
L'activitat ha estat organitzada per l'ICAC i la URV, en el marc del projecte de recerca "Mecanismes de representació del passat i dinàmiques de la performance a la Grècia antiga" (MICINN FFI2015-68548-P), sota la coordinació de Jesús Carruesco (ICAC). Destaca la participació de Giambattista d'Alessio (Università degli Studi di Napoli Federico II, Itàlia) Silvia Milanezi (Université Paris-Est Créteil, França), Rosa Andújar (King's College London, Regne Unit),  Jaume Pòrtulas (UB), Bernardo Berruecos (UNAM, Mèxic) i Xavier Riu (UB).
Podeu llegir aquí els resums de les presentacions.