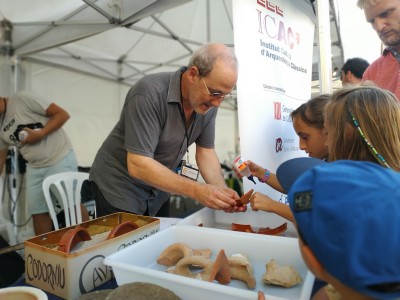 The project, applied along with other Catalan institutions within the Horizon 2020 call, has obtained this year the official recognition of the EU.
ICAC (Catalan Institute of Classical Archaeology) will be participating this year, the third edition of the event in Tarragona, in the European Researchers' Night, that will be held on November, 27 under the leitmotiv «Research for change».
It is a public event devoted to the dissemination of science that is held every year in more than 300 cities in 30 countries in Europe at the same time. Its objective is to bring research and its protagonists closer to the public of all ages and to make research and innovation spread in a comprehensible and fun way.
The Rovira i Virgili University coordinates the activities organized in the Tarragona node, which includes the research institutes of the territory: Catalan Institute of Classical Archaeology (ICAC), Catalan Institute of Chemical Research (ICIQ), Institute of Health Research Pere Virgili (IISPV) and Catalan Institute of Human Paleoecology and Social Evolution (IPHES).
2019 edition of the event brought in Tarragona more than 150 researchers from the URV and research institutes to participate in outreach activities. The core activity was a fair with 34 workshops, in the downtown of Tarragona. Also, there were workshops at several high schools of the territory and dissemination talks addressed to the general public.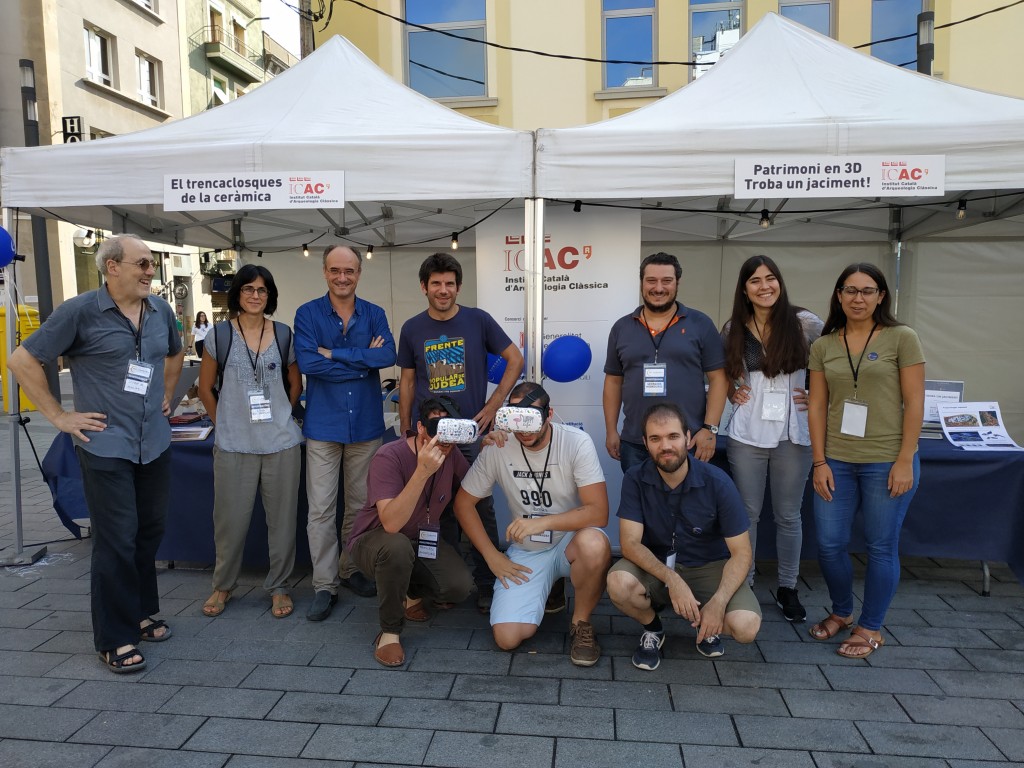 ICAC participation in the second edition of the European Researchers' Night (2019) included four hands-on workshops, corresponding different ongoing research topics in the Institute.
La celebración del evento en Tarragona cuenta con la colaboración de la Diputación de Tarragona y del Ayuntamiento de Tarragona, a través de la Consejería de Educación y el Instituto Municipal de Educación de Tarragona (IMET).
La Noche Europea de la Investigación no hubiese sido posible sin todas aquellas instituciones y entidades que dieron apoyo logístico o económico a fin de poder hacer realidad el montaje de las actividades, como fueron: el Mercado Central de Tarragona, las empresas Asesa, Borges y Siurana, el Ayuntamiento de Reus o la Asociación para la Divulgación Científica del Camp de Tarragona.
Financiación europea a un proyecto conjunto en Catalunya
La propuesta presentada para la tercera edición del certamen lleva por título EUNightCAT20 y ha conseguido por primera vez financiación para el proyecto European Researchers' Night, dentro del programa Horizon 2020, después que en las dos pasadas ediciones (2019 y 2018) se haya celebrado con el sello de Noche Asociada.
El proyecto EUNightCAT20 ha obtenido una muy buena puntuación, con 14 de los 15 posibles puntos. En palabras de Sílvia Simon, investigadora de la Universidad de Girona y coordinadora del proyecto, "esta es la primera vez que la Noche Europea de la Investigación en Catalunya se celebra con financiación de la Comisión Europea y es un gran apoyo para poner en valor de cara a la sociedad la investigación e innovación catalanas".
Desde la primera edición, en 2018, la URV coordina el nodo de Tarragona; la Universidad de Girona es la institución coordinadora del proyecto y también del nodo de Girona; la Asociación Catalana de Comunicación Científica con la colaboración de ISGlobal coordina el nodo de Barcelona; la Universidad de Lleida coordina el nodo de Lleida i esta edición se ha incorporado también la Universidad de Vic como coordinadora del nodo de Catalunya Central.
El proyecto cuenta también con el apoyo de distintas entidades, como la UOC, la Universidad Pompeu Fabra (UPF), la Fundació Catalana per la Recerca i la Innovació (FCRi), la agencia AGAUR (Agència de Gestió d'Ajuts Universitàries i de Recerca) y la ACUP (Asociación Catalana de Universidades Públicas), entre otras.
¡Nos ponemos ya a trabajar en nuestra propuesta de actividades! Os iremos informando de las novedades, también por Twitter: @ICAC_cat