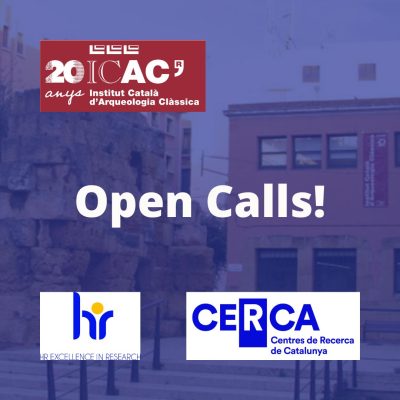 En fecha 9 de enero de 2022, queda abierto el plazo para presentar solicitudes en cuatro convocatorias laborales del ICAC.
On January 9, 2022, the ICAC opens time for applications in four job calls. Calls for these positions were approved, by resolution of the director of the ICAC on December 23, 2022, in relation to the provision of permanent positions corresponding to the public employment offer of 2020 and the extraordinary stabilization rate of 2022.
The four open positions are: senior communication and publications technician, senior research management technician, senior archaeologist technician, and general services and economic management assistant.
General description of the calls:
Call from the Catalan Institute of Classical Archaeology (ICAC) for the provision of a permanent job position for a senior communication and publications technician (code 017.11)

Job description: senior technician Communication and Publishing
Job category: senior technician (A2)
Working hours: full-time contract (37,5 h per week, from Monday to Friday)
Working location: ICAC (Rovellat square, Tarragona)
Call 017.11 (in Catalan)
Call from the Catalan Institute of Classical Archaeology (ICAC) for the provision of a permanent job position for a senior research management technician (code 017.26)
Job description: senior technician Research Management
Job category: senior technician (A3)
Working hours: full-time contract (37,5 h per week, from Monday to Friday)
Working location: ICAC (Rovellat square, Tarragona)
Call 017.26 (in Catalan)
Call from the Catalan Institute of Classical Archaeology (ICAC) for the provision of a permanent job position for senior archaeologist technician (code 017.110)
Job description: senior technician Archaeologist
Job category: senior technician (A3)
Working hours: full-time contract (37,5 h per week, from Monday to Friday)
Working location: ICAC (Rovellat square, Tarragona)
Call 017.110 (in Catalan)
Call from the Catalan Institute of Classical Archaeology (ICAC) for the provision of a permanent position of assistant of general services and economic management (code 017.31)
Job description: assistant of general services and economic management
Job category: assistant (group D2)
Working hours: full-time contract (37,5 h per week, from Monday to Friday)
Working location: ICAC (Rovellat square, Tarragona)
Call 017.31 (in Catalan)

The ICAC is a CERCA centre