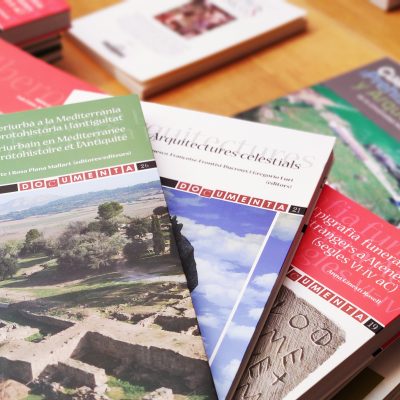 The ICAC has a Publications Service, coordinated by Maura Lerga, through which spread its own and others' research work in the field of classical archeology.
So far, more than 120 titles have been published within the Documenta, Hic et nunc, Trama series and co-editions and collaborations with other institutions.
On the other hand, from the ICAC Documentation Centre and Library, a strong boost has been given from the beginning to bibliographic exchange agreements with universities and scientific institutions around the world, a figure that currently stands at over 270.
With the help of Fundació Privada Mútua Catalana, the ICAC has sent 450 books to 84 research institutions.
Unfortunately, the increase in shipping costs in recent years and the economic crisis had caused many of these books to remain unshipped. Recently, thanks to a grant for culture for the year 2022 from the Fundació Privada Mútua Catalana of €1,500, the ICAC has been able to implement a distribution strategy with which it has sent 450 books to 84 institutions (74 national and 10 international).
The receipt and management of this aid has been possible thanks to the collaboration with the Fundació Privada Mútua Catalana through the ICAC researcher Jordi López, the ICAC administrator, Jordi Peiret, and the person in charge of the Library and Documentation Center, Lydia Gil.