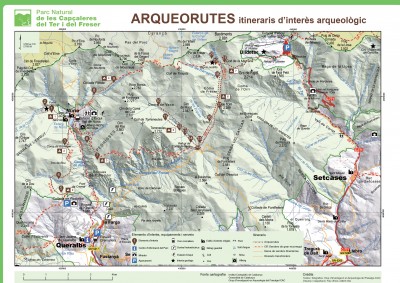 Do you know the archaeo-tracks?
The ICAC and the Natural Park of the rivers Ter and Freser (Girona) lead this knowledge transfer action to place value on the historical and cultural heritage contained in the mountains of the Natural Park.
We consider the design of the hiking routes through archaeological interest sites a good example of how research can contribute to the development of a region. In this case, with the dissemination of the cultural landscape as an added value to the tourist potential the area already has.
The ICAC, with the GIAP research team, works with great interest in landscape archaeology, a discipline that studies the interactions of societies with their environment and how this interaction has shaped landscapes: cultural landscapes.
Between 2010 and 2017 a team of GIAP archaeologists, led by researcher Josep Maria Palet, have carried out different archaeological fieldworks at the Natural Park of the rivers Ter and Freser. As a result of this work, we found clear evidence that the Pyrenean valleys have been shaped by man since prehistory (IV-III millenniums BC). Good pastures and ease access to water supply allowed the establishment of cattle communities since the Neolithic, and so far more than 400 archaeological structures related to livestock activity, such as granaries, huts, fences or milking rooms have been documented.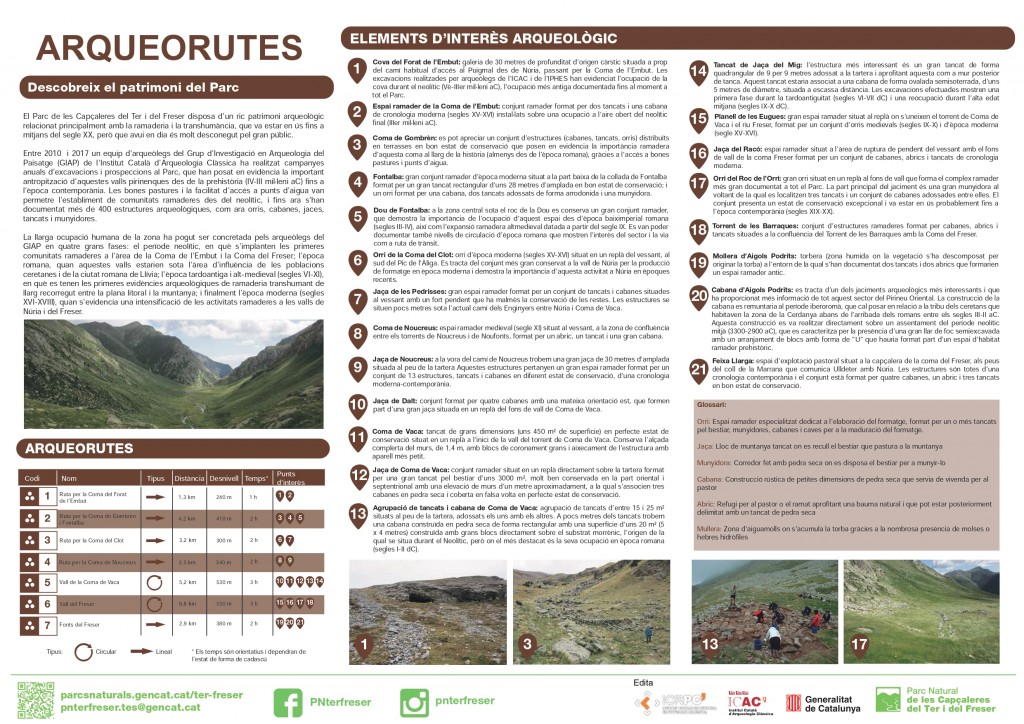 The information included in the archaeo-tracks aims to reveal these findings through hiking the Pyrenees Mountains in the area of the Ter and Freser headwaters. A set of six archaeo-tracks introduce up to 21 archaeological interest sites we can follow with the described itineraries, properly marked. Thesearchaeo-tracks were designed by Josep Maria Palet and Pau Olmos.
Besides a general map with all the tracks, in the Natural Park website, you can find specific information for each itinerary, including a brochure that depicts the different interest elements, the track and all the necessary information to enjoy the experience. You can also find a .gpx file with the track on GPS.
---
All information about the archaeo-tracks and the hiking routes through archaeological interest sites is available on the Natural Park website: