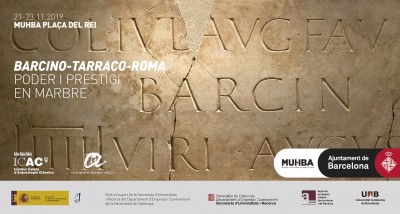 The ICAC and the URV, with the collaboration of the museum MUHBA in Barcelona, organize an expert internacional meeting to reflect on the uses of marble as a symbol of status and power in the Roman Empire.
21-23 November, MUHBA Plaça del Rei (Barcelona)
The ubiquity of marbles and other ornamental rocks (marmora) in ancient cities, both in the municipalities and colonies of the Empire —such as Barcino— and in the large provincial cities —including Tarraco— powerfully illustrates how the power of Roma, the great capital, looms over all manifestations, whether political, economic or social.
Moreover, the strategies and technical skills of the ancient Romans are illustrated by the high degree of adaptability and logistical power employed to mine quarries, distribute the material along great trade routes and transform it to serve the image of the Empire: a message of power and prestige that is eternally linked to marble.
This international meeting wants to emphasise the value of these materials as status symbols that are found in architectural decoration, sculpture and monumental epigraphy, among other uses. It will bring together experts from different academic fields and scientific disciplines from Catalonia, the Iberian Peninsula and the international sphere in general.
The event is also a homage to Dr Isabel Rodà de Llanza, Emeritus Professor of Archaeology in the UAB and former director of the ICAC, who will give a masterclass before the closure of the meeting. saturday November 23th at 12.30 h. That day there will also be a guided tour of the MUHBA archaeological collections – Zona Franca, that will be opened especially for the occasion.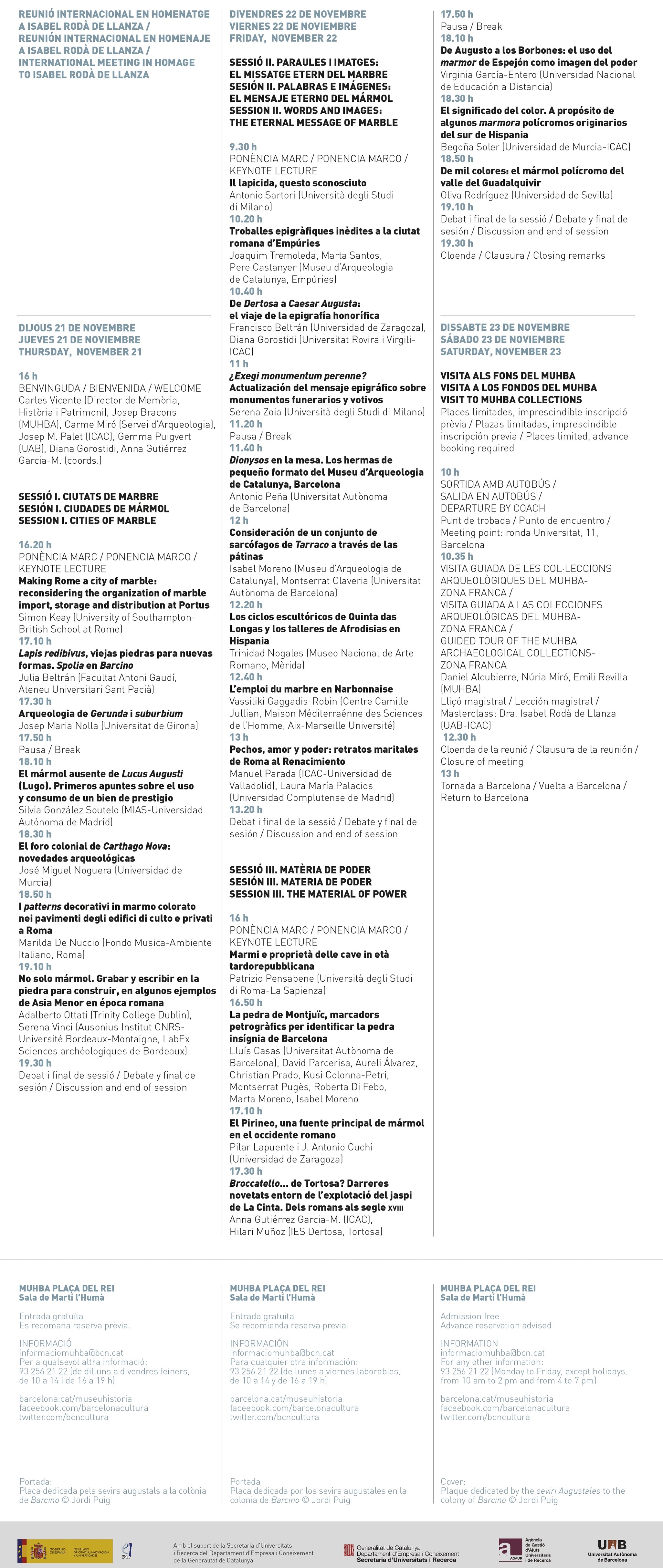 Barcino-Tarraco-Roma is the result of the confluence of two research projects: "Officinae lapidariae tarraconenses. Quarries, Workshops and Artistic Productions in Stone from the Provincia Tarraconensis" (HAR2015-65319-P, MINECO/ERDF, EU); and "The Message of Marble: Prestige, Symbolism and Local Materials in the Western Provinces of the Roman Empire Between Antiquity and Early Middle Ages Through the Case of Hispania" (PGC2018-099851-A-I00, MINECO/ERDF, EU).
Scientific coordination: Diana Gorostidi Pi (ICAC-URV) i Anna Gutiérrez Garcia-Moreno. (ICAC).
MUHBA PLAÇA DEL REI, Sala de Martí l'Humà
Entrada gratuita
informaciomuhba@bcn.cat
barcelona.cat/museuhistoria
faceebook.com/barcelonacultura
twitter.com/bcncultura