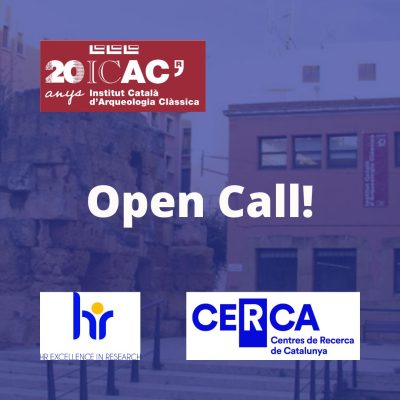 The Catalan Institute of Classical Archaeology opens a call for a part-time senior technician position, linked to the Archaeometry Studies Unit (UEA).
Within the framework of the Archaeometric Studies Programme, the ICAC has the Archaeometric Studies Unit (UEA), to carry out different projects and studies in which it applies analytical techniques to inorganic archaeological materials (with special emphasis on marmora materials, ornamental or construction) to provide an archaeological key interpretation of the results.
For this purpose, and according to the current regulations, the ICAC director has approved (in this Resolution) the call for an indefinite part-time job position linked to the Archaeometric Studies Unit (UEA) (call code 017.123).
General description of the call:
Job description: Senior technician with organic and functional affiliation to the Archaeometry Studies Unit (UEA)

Job category: Senior Technician (A3)

Working hours: Part-time contract (17,5 h per week, from Monday to Friday)

Working location: ICAC (Rovellat square, Tarragona)

Duration:  indefinite

Contract: part-time indefinite employment (200)

Number of job positions: 1

Remuneration: 16.170,11  € (gross) per year

Call: Public offer

Procedure: Ordinary

Regulations: Instruction ICAC 3/2022, from September 15, and Article 23bis of Law 14/2011, of June 1, on Science, Technology and Innovation modified by Law 17/2022, of September 5.

The ICAC is a CERCA centre