Date:19/01/2022
Time: 12:00 h (CET)
Organised by: Institució Milà i Fontanals (ASD, Archaeology of Social Dynamics Research Group)
Join us in the first ASD Seminar of 2022! Free to attend, online!
Experimental archaeology as a tool for studying Iron Age fire installations in the Western Mediterranean, with M. Carme Belarte (ICREA Research Professor), leading researcher of the research group on Protohistory at the ICAC.
Experimental works on Iron Age combustion installations are being carried out in the "Iberian Citadel of Calafell" (Tarragona, Spain) archaeological site, within the framework of the project Transdisciplinary and experimental study of combustion structures in the western Mediterranean during Protohistory.

The experiment is performed on present-day replicas of archaeological hearths and ovens that correspond to a varied typology, based on archaeological documentation coming from Iron Age sites of the western Mediterranean. Experimental works include the use of various fuel-types (wood, grasses, palms and animal dung), according to the available archaeobotanical records. Variables such as increased heating and time are measured, in order to determine whether variations occur, depending on the fuels used, the type of structure or its location. Liquid boiling and meat cooking tests are also being performed. Samples of the sediment composing these structures have been systematically collected for interdisciplinary analyses and comparison with archaeological structures. In this talk, first results obtained are discussed.
Organized by: H. Alarashi, F. Borrell, I. Clemente, J.J. Ibáñez, S. Jiménez Manchón, A. Masclans, B. Milić, D. Ortega, F. Pichon, M. Portillo, X. Terradas, S. Valenzuela-Lamas, D. Visentin, H. Xhauflair, A. Zupancich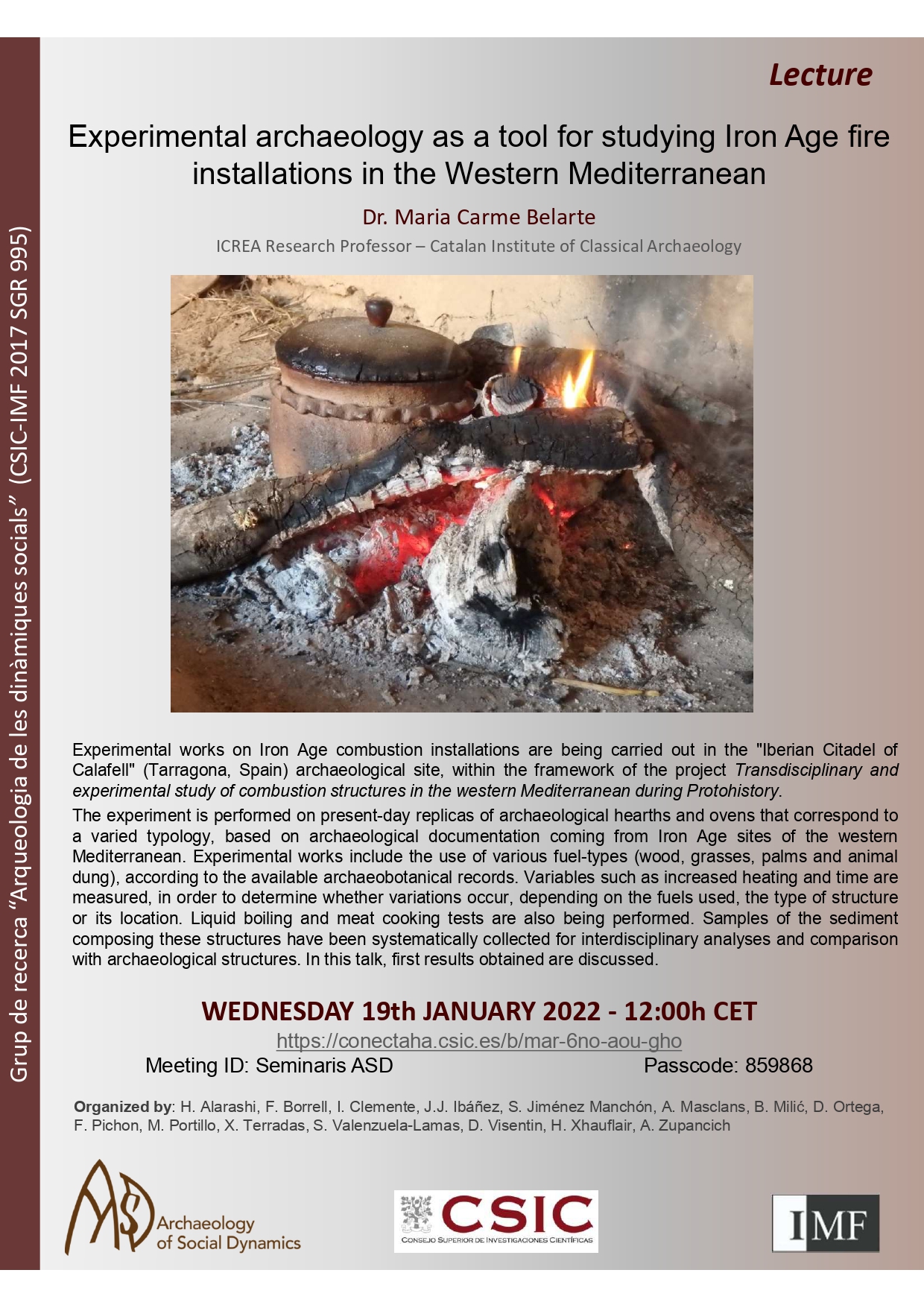 Dr. Maria Carme Belarte
ICREA Research Professor – Catalan Institute of Classical Archaeology