Coordinator: Josep Guitart
Funding institution: FEDER
Other participating bodies: Montmeló and Montornès del Vallès Town Councils, the Government of Catalonia Archaeology Service, the Autonomous University of Barcelona, Estrats-Gestió del Patrimoni Cultural S.L., Arqueociència and Antequem..
Web: http://www.monsobservans.cat/
Summary
The executive direction and management of the "Via Augusta Natural Park and Archaeological Observatory" project, the execution of which has allowed the creation of the "Mons Observans: Can Tacó-Turó d'en Roina" Archaeological and Nature Park, was presented on 27 October 2012. The park is in the municipalities of Montmeló and Montornès del Vallès.
Description
It is a 2nd-century-BC residential fortification that overlooked the ancient Via Augusta and is now the main attraction in a 2,500 m2 natural park. Scientific research began at the archaeological site in 2003, with the support of the two town councils that own the land. Thanks to this activity, in 2008 the archaeological site was declared an Asset of National Cultural Interest (BCIN) by the Government of Catalonia. In 2009 the two town councils commissioned the ICAC to draw up a FEDER project, which was selected and begun in the following year.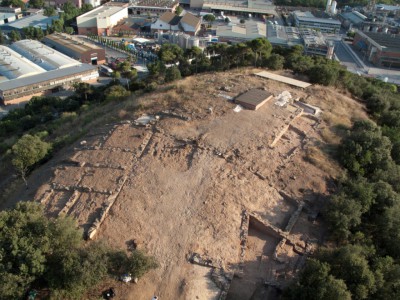 At this site the ICAC has supervised a comprehensive archaeological excavation project and has acted as assessor in the subsequent restoration and museumisation tasks (the two photos show the site before and after the archaeological intervention). The project concluded with the architectural restoration of the complex and the adaptation of the natural surroundings. It received the Opinion Prize from the FAD 2013 of Architecture and Interior Design and an award from the 12th Spanish Biennial of Architecture and Town Planning 2013 in the territorial protection category and the Domus Fassa Bortolo International Award 2018.