Coordinator: Josep M. Macias
Funding institution: Tarragona City Council, ICAC, Archbishopric of Tarragona, Secretariat of Universities and Research.
Excavation blog: A la recerca del temple d'August
Summary
The execution of the 4th Phase of the Tarragona Cathedral Master Plan involved suspending the religious services held in the building. This circumstance was taken advantage of to begin a project aimed at answering the many questions regarding the archaeological situation of a space that had been sealed since the year 1330, when the construction of the mediaeval cathedral was completed.
Description
Based on a cooperation agreement, archaeological excavations were carried out in the interior of the Metropolitan Cathedral of Tarragona (2010-2011), which is located at the heart of the ancient pagan sacred area and above the imperial cult temple of Augustus. The project was complemented with a series of knowledge transfer actions.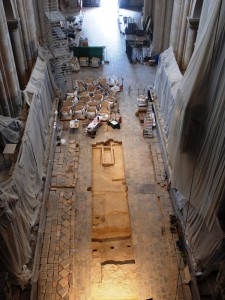 The results of the archaeological project were disseminated in a bilingual blog (Catalan and Spanish) hosted on the Sàpiens magazine platform. The blog offered daily information on the progress of the project and a subsequent list of the contents was created. In 2010, open-day workshops were held during the archaeological excavations and received 1,700 visitors.
In 2012 the dissemination project "Praesidium, templum et ecclesia. The archaeological excavations in Tarragona cathedral 2010-2011" was undertaken with the support of the Secretariat of Universities and Research through the ACDC'11 call. The project consisted of a trilingual informative exhibition at the Museu Bíblic Tarraconense during the Tarraco Viva 2011 festival. The exhibition, which was accompanied by a season of talks, was seen by 2,750 visitors and obtained the Musa Prize 2011, awarded by the Auriga Foundation in the Temporary Exhibition on the Ancient World category.
Together with the exhibition, a trilingual informative book was published, as well as an audiovisual on the archaeological excavations and the historical and ideological evolution of the city's acropolis. The audiovisual was chosen to participate in the Bidasoa International Festival of Archaeological Cinema (FICAB 2012) and the Rassegna Internazionale del Cinema Archeologico de Rovereto (2012).